Special Thanks To All Our Classy Gifts Shoppers!!!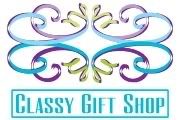 Shop online for housewares, gifts & seasonal decor visit store today www.myclassygifts.com or CLICK HERE TO VISIT OUR STORE!














CLASSY GIFT SHOP


Click on Image to visit BABY GIFT DEPARTMENT



Click on Image to visit SPIRIT OF THE WEST DEPARTMENT




Hi Click on my pic to visit EDUCATIONAL DEPARTMENT



Bow -Wow click on me to buy PET GIFTS



Check out our DOLPHIN COLLECTIONS




Click on me to visit our RELIGIOUS / INSPIRATIONAL DEPARTMENT



Bath Set On Green Leaf Dish
A lovely pale green leaf-shaped dish holds a collection of bath products infused with a light, exotic scent of sweet pea and chinese peony to leave the body and mind refreshed and clear. 10" x 10" x 2 1/4" high.

Item: 36375

$16.95
Orange Bath Set in Willow Basket
A glorious assortment of goodies, infused with the sumptuous scent of sun-ripened oranges, beautifully packaged within this willow basket is very essential for whole-body wellness: 260ml shower gel and body lotion, 85 ml body scrub and body butter, two 40g bath fizzers and a massaging sponge. Sure to be everyone's favorite gift—10 1/4" x 5 1/2" x 13" high.


Item: 38051

$29.95
Antique-Look Lion Desk Clock
With a classic lion motif and an antique finish, this fine desk clock is the essence of sophistication. Uses one AA battery, not included. Alabastrite. 5 3/4" x 3 1/2" x 7 1/2" high.


Item: 33615

$29.95
Antique Gold Finish Wall Mirror
This magnificent mirror would be at home in the private chamber of a duchess! Baroque design and antique gold finish make this a rich and regal looking glass. Alabastrite. 20" x 1 1/2" x 29 1/2" high.

Item: 33630

$119.95



The time here in New York City!!!!!





WE ACCEPT PAYPAL: IT IS FAST, EASY & SECURE =>When you use PayPal, your financial information is never shared with the merchant. START SHOPPING NOW!

Classy's Interests
About Us:
Our goal is to provide our customers with quality products at affordable prices. Give your home a makeover indoors and outdoors or if you are looking for the perfect gift for a friend or a loved one or even a family member you've come to the right place. We have an awesome selection of housewares, giftwares, collectibles, garden decors and seasonal decors. We have something for all occasions. So, feel free to browse through all departments. Pay close attention to the length, width and height of the merchandise.

We do our best to give our customers the best deals on all our products. We feel that once you shop with us, you'll never feel the need to go anywhere else. We don't charge membership fees and we don't require a minimum on your order. We just offer you great products at affordable prices. Whether you buy just 1 product as a gift or 10 products, you will always pay 1 exclusive low shipping price of $5.00.

Your satisfaction is important to us. All our merchandise are shipped brand new. In case you receive an item that you would like to return, please contact us to arrange for return within 3 business days. Items must be returned at your expense in the same condition as they were received, with all original packaging and literature, and once we are in receipt of the merchandise in satisfactory condition we will issue a prompt and courteous refund for the cost of the item, less shipping costs.

We appreciate your business. If their is anything that we can do to better serve you, please feel free to contact us.
F.A.Q:
Q: How will my product be shipped?
A: All orders will be shipped via UPS Ground.

Q: How long will it take to receive my order?
A: Orders are shipped within 2-3 business days and arrive at their destination in 7-10 business days depending on your location. During holiday seasons the delivery time will increase. Give yourself enough time during peak holiday seasons to place order.

Q: What is your return policy?
A: If you are not 100% satisfied with your order and want to return it, simply email us at info@myclassygifts.com. Make sure your subject line reads "returned item" and we will contact you within 24-48 hours and take care of your return. Note: In order for your return to be honored we must hear from you within 14 business days after you receive your order. Please include all pertinent information such as: Order #, Item #, Contact# etc.

Q: Do you take international orders?
A: No. Sorry not at this time maybe in the future.

Q: Is there a minimum order?
A: No, there is not a minimum order.

Q: Do you have a catalog I can order?
A: Yes. We have printed versions, once you place an order we will include a catalog with your order for FREE.
Music:



VISIT OUR STORE TODAY!!!

Click on Image to visit BABY GIFT DEPARTMENT


Click on Image to visit SPIRIT OF THE WEST DEPARTMENT


Hi Click on my pic to visit EDUCATIONAL DEPARTMENT




Blog




The Classy Collection!









CLICK ON PAGE NUMBER TO VIEW PHOTO FLIPBOOK...









Visit Our Website Today!



Featured Photos

Cowboy Boot Wall Hook

Cowboy Boot

Last Supper Wall Clock

Love Letters Wall Cross

Lord's Prayer Decorative Plate

Item #31738 Last Supper Bas-Relief

Prayer Of Strength Candleholder

Thomas Kinkade Cover

Item #30067 Dolphin Oil Burner

Item# 34884 Seashell & Dolphin Night Light




Estimate Your Delivery Date


All orders are shipped from our warehouse in California via UPS.
The closer you are to California the faster the order will arrive…
This chart is ONLY to calculate an estimated date of arrival.
Once you place an order within 48 business hours a UPS tracking number will be emailed to you.

UPS® Deliveries are Monday to Friday Only
Holidays are excluded

Identify the zone you're shipping to by referring to the map below to estimate your order arrival time.

SHIPPING & HANDLING ONLY $5