officialbritneyspears

Britney Jean Spears
View My photos
" '' Official Picturetrail Of Britney Spears''

''The Legendary Miss Britney Spears''

My Official Site:
www.britneyspears.com
www.britney.com
www.britneyzone.com

My Official Myspace:
www.myspace.com/britneyspears

My Official MSN:
http://group.msn.com/BritneySpearsOfficialMSNGroup

My Official Picturetrail
www.picturetrail.com/homepage/officialbritneyspears

My Official Community:
http://www.badmediakarma.com

The Official Site Britney Spears Fans:
http://www.myspace.com/britneylegendmusical

"

34 years old

Location: Kentwood, Louisana

Views: 17647

Last Login: 5/22/2009


Britney Jean has 45 votes!

Britney Jean Spears belongs to 44 Clubs:
THE CLUB OS JUSTIN TIMBERLAKE, Destiny Kuhns #1 Fan Club, ZOEY 101 fans, Dance Lovers Club!, Music= Life Show all 44 Clubs
About Me


''Hey it's me,Britney Spears. This was my official picturetrail. I ask my manager to do it for my fan so i can talk and know everything from my fan that they still love me. I got voice comment and you can leave any message that you want talk about me,my career even my son! So i'm not always in here trying to be busy always haha. But thanks to all people that giving support to me. You also can ask many question to me and i would answer it but not the private thing. And I got my photo album (personal and private) that you can see it for the first time and it's real. I trust that i have still have a fan outside there that is still love me and support my career. To all my fan out there thanks and i hope that you still listen to all my song escpially my new album blackout. I'm a human that not perfect exactly. Sometimes i made my own mistakes because i want my entitlement in my life. I don't like people talking anything about me. I don't happy in my life. People always follow me and get what they want. It's make me sick. Everyone in outside there think that i live so happy but what they think it's wrong. They don't know about my real life. Everytime and every minutes i've already got a problem. I also already crying about my son. I love my boys so much. I'm tired with all this problem. It's not easy to being mom just like me and a pop singer since i was young. So i hope people would stop think negative about me and accept me as a usual human in this world. So leave me alone and let me breathe! Have a great day and god would bless to all of you.''

Truly,
Britney Spears.

THE SONG OF CIRCUS! LISTEN NOW!







Britney Spears Biography
Britney Jean Spears (born December 2, 1981) is an American female pop singer and actress. Spears has sold over 85 million albums worldwide in under 9 years of entertaining.

Spears released her debut album ...Baby One More Time in 1999, resulting in an international success.[1] It spawned the Billboard magazine-topping single "…Baby One More Time".[2] She released her second studio album Oops!... I Did It Again in 2000 with continued success.[3][1] A third album, Britney, was released in 2001, followed by the release of her fourth album, In the Zone, in 2003. The album's single "Toxic" won Spears her first Grammy Award.[4] After the release of a greatest hits collection, EP, and a remix album, she released her fifth album Blackout in 2007 which contained her biggest hit in the U.S since ...Baby One More Time, Gimme More .[5]

Spears's personal life began to gain more media attention after her marriage to Kevin Federline in 2004. Their marriage ended just two years later resulting in an ongoing custody battle. She gave birth to her first child in 2005 and to her second child in 2006.[6][7]

Britney Spears was born in McComb, Mississippi,[8][9] and raised in Kentwood, Louisiana as a Southern Baptist. Her parents are Lynne Irene (née Bridges), a former elementary school teacher, and Jamie Parnell Spears, a building contractor. Spears's brother Bryan works as a manager for the Spears family interests[10] and her sister Jamie Lynn is an actress and singer. Her maternal grandmother Lillian Woolmore was an English war-bride,[11] born in Tottenham, London[12] who met Spears's grandfather Barnett O'Field Bridges in England during World War II. Her paternal grandparents were June Austin Spears and Emma Jean Forbes.[11]

Spears was an accomplished gymnast, attending gymnastics classes until age nine and competing in state-level competitions.[13] She performed in local dance revues and sang in her local Baptist church choir. At age eight she auditioned for the Disney Channel series The New Mickey Mouse Club. Although she was considered too young to join the series at the time, a producer on the show introduced her to a New York City agent.[13] Spears subsequently spent three summers at NYC's Professional Performing Arts School and also appeared in a number of off-Broadway productions, including 1991's Ruthless!. In 1992, she landed a spot on the popular television show Star Search. She won the first round of competition, but ultimately lost. At age eleven, Spears returned to the Disney Channel for a spot on the The New Mickey Mouse Club in Lakeland, Florida.[13] She was featured on the show from 1993 to 1994, until she was 13.[14] After the show ended, Spears returned to Kentwood and attended high school for a year.[15]

In 1997, Spears briefly joined the all-female pop group Innosense.[16] Later that same year, she recorded a demo solo and was signed by Jive Records.[13] She began a U.S. concert tour sponsored by American teen magazines, and eventually became an opening act for 'N Sync and the Backstreet Boys.[17]

DISCOGRAPHY

Studio albums
1999: …Baby One More Time
2000: Oops!… I Did It Again
2001: Britney
2003: In the Zone
2005: The Original Doll (unreleased)
2007: Blackout

Complication albums
2004: Greatest Hits: My Prerogative
2005: B in the Mix: The Remixes

EPs
2005: Chaotic

DVDs
1999: Time Out with Britney Spears
2000: Live and More!
2001: Britney: The Videos
2002: Live from Las Vegas
2004: In the Zone
2004: Greatest Hits: My Prerogative
2005: Britney & Kevin: Chaotic

Tours
1999: Hair Zone Mall Tour
1999: ...Baby One More Time Tour
2000: Crazy 2K Tour
2000: Oops!... I Did It Again World Tour
2001-2002: Dream Within a Dream Tour
2004: The Onyx Hotel Tour
2007: The M+M's Tour

Music videos
Main article: Britney Spears videography
Spears's music videos have contributed significantly to her musical success. The video for "…Baby One More Time" featured Spears in a school uniform that exposed her midriff, an image that helped propel her to superstardom.[17][169] Similarly, the video for "Oops!… I Did It Again" showed Spears wearing a red tightly-fitted catsuit, fueling speculations that the star has breast implants.[17][169][170] Her image as a "clean, straight-up girl" was revolutionized by the videos for "I'm A Slave 4 U", "Toxic" and "Gimme More" which generated controversy by portraying Spears in a more sexually-oriented manner.[169]


Filmography
Year Title Role Notes
1991–1993 The Mickey Mouse Club Various Roles Seasons 6-7
1999 Sabrina, the Teenage Witch Herself Cameo
1999 Kenan & Kel Herself Cameo
1999 The Famous Jett Jackson Herself Cameo
2000 The Simpsons Herself Cameo
2000 Longshot Flight Attendant Cameo
2001 Being Mick Herself Cameo/Documentary
1999-2002 All That Herself 5 episodes
2002 Austin Powers in Goldmember Herself Cameo/Soundtrack
2002 Crossroads Lucy Wagner Lead Role/Feature Film
2002 Robbie the Reindeer in Legend of the Lost Tribe Donner English version/Animation
2000-2003 Saturday Night Live Musical Guest 4 episodes
2003 Pauly Shore is Dead Herself Cameo
2004 Brave New Girl Writer/Producer Television Movie
2005 Fahrenheit 9/11 Herself Cameo/Documentary
2005 Britney & Kevin: Chaotic Herself Reality Show
2006 Will & Grace Amber-Louise Episode "Buy, Buy Baby"
2008 How I Met Your Mother Abby 2 episodes: "Ten Sessions" and Everything Must Go"
2008 Pussycat Dolls "When I Grow Up" Music Video Herself Cameo/Music Video


Britney Jean's Interests
About Me:
All People know me! Yah i'm Britney Jean Spears. I was born on December 2,1981 at Kentwood,Louisana in USA. I have brother that was name Bryan and my sister Jamie Lynn. I got a short name britney and i like as known as britt. My height was 5'5 and my weight 105lb. My mother name Lynne Irene bridges and my father name James Parnell Spears. I have a success career in my life and also win so many awards. That was mtv vma, grammy awards,billboard awards,teen choice awards. I'm the first artist that won so many awards and over 16 million my album that i already sold in the world. I've already married and divorce. That would be my ex-husband Kevin Federline. And i also have 2 son. First was name Sean Preston and second Jayden James. I love my children a lots! I got a lot album and now i'm making a new album that was called Blackout. It's really get reception all over the world.
Rules I Lives By:
Always enjoy with my life
My Quoutes:
''These parents, they think I'm a role model for their kids, that their kids look at me as some sort of idol. But it's the parents' job to make sure their kids don't turn out that shallow. That's not my responsibility. I'm not responsible for your kid."

My Favourite Sports:
Basketball and swimming
My Favourite Actor:
Tom Cruise. Brad Pitt and Mel Gibson
TV Shows:
The Mickey Mouse Club And Britney And Kevin:Chaotic
Favourite People That I Know:
My Fan, My Mom, My Father, My Sister, My Brother And My Son.
My Favourite Celebrities:
Madonna And Mariah Carey.


My Favourite Food:
Ice-Cream,Pasta And Hot Dogs
My Favourite Colour And Song:
Baby Blue And Purple Rain


WOMANIZER OFFICIAL VIDEO



CIRCUS SONG ON GOOD MORNING AMERICA






My new album ''CIRCUS'' featuring the hits single womanizer.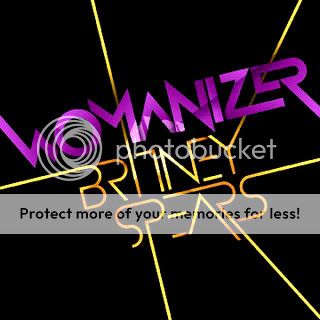 "Womanizer" is a song by American pop singer Britney Spears. The song was recorded for her forthcoming sixth studio album, Circus.

Announced as the lead single from the album, "Womanizer" was first released to radio stations worldwide on September 26, 2008. It will be released commercially in the United States on October 7, 2008 through digital distribution. It will be released as a CD single on November 3, 2008 in the United Kingdom.


The music video was filmed on September 24 and September 25, 2008, at an exclusive Los Angeles, nightclub and restaurant.[27] It was directed by Joseph Khan, who had previously directed Spears' most erotic videos, "Stronger," in 2000 and in the international music video hit Toxic in 2004.[28] It was reported by OK! Magazine that the video contains erotic choreography [29]

As was done for Spears's previous music video "Piece of Me", the video is set to premiere on ABC's 20/20 on October 10, 2008.[30]

The "Womanizer" music video takes place at the Elevate Lounge in the Takami Sushi & Robata Restaurant. One scene shows Spears' as a sexed-up waitress, wearing black boots, tight-black leather pants with an oversized black belt, a black leather vest with a white button-up cutoff vest underneath, and drenched in silver jewelry around her neck and wrists. Spears' left arm is tatted with red roses. The word "Womanizer" is written inside a broken heart on her upper arm and written again in black cursive a bit lower. Surrounded by dancers in similar outfits, Spears' walks through the restaurant carrying a silver platter with a glass of brandy on top. To complete her Gothic-waitress look, Spears' rocks a shoulder-length, dark auburn-colored wig and black nail polish.

Another scene shows a playful and flirty Spears' playing the role of a sexy secretary, dressed in a black & white striped top, a knee-length leather skirt, black-rimmed spectacles and a short, black bob wig. Spears', wearing bright-red lipstick for the scene, plays with the love-interest in the video (wearing a black business suit and tie) - even photocopying his face in the office as she smiles to the camera.

But it's the sex-kitten Spears' in a revealing, grey satin robe, peeping black bra, and pink belly-button ring, along with her signature tousled long blond hair. Here, Britney is cooking breakfast for her pursuer after a night of passion, and brings the meal to her newly-found lover who happens to be wearing only white boxer-briefs at the table while the word "womanizer" flashes in the background. She then blows him a kiss, remembering that innocent, yet not-so-innocent, demure she displayed in her early days in pigtails and a school-girl uniform.

Britney is later seen wearing the man's black business-jacket and tie, along with a black hat and sunglasses inside a car.

Official Circus Tracklist:
1. Womanizer
2. Circus
3. Out From Under
4. Kill The Lights
5. Shattered Glass
6. If U Seek Amy
7. Unusual You
8. Blur
9. Mmm Papi
10. Mannequin
11. Lace and Leather
12. My Baby
Bonus Track:
13. Radar



Featured Photos

With My Personal Assistant

Me And Allie

Me And Bryan

Me,Allie And Jessy

Me And Lucy Washly

With fans anymore

PROOF.. I signed this.. old school pics

Me And Felicia

Me And Jamie

With My Fan